Darren's CJ

All these photos are from Father's Day. The CJ is there, the Dodge, our club
President's M715, and a few of the military Jeeps.

For the last two years, I have volunteered on Father's Day to help a sponsor
of the off-road club that I belong to. He lets us use his land for
recreation, over 200 acres worth, and in return we help him stage an event
at the Veteran's Hospital every Father's Day. He has several vehicles that
he likes to display as part of the events. There is usually the Classic Car
Club of Montreal, The Corvette Club of Montreal, The British Car Club of
Montreal, some Military vehicle owners, and us, the Off-Roaders who show up.
We help with crowd control, running the event, supply a DJ, and help with
the vehicles. We also primarily get our sponsors collection from his house
to the hospital. He has a Model A, a Model T, a Dodge 6 wheeler, and a 1948
CJ-2A that he likes to bring out every year.
 
That being said, I have ended up driving the CJ-2A for the last two years. I
gave rides to the kids around the Hospital, and any able bodied Vet that
could get in and was willing to go.
 
A combination of things did me in. Driving the CJ-2A for two years in a row,
having at least 2 others in my club who are restoring MB's, and the whole
popcorn experience of watching John (sorry John ;)
 
Ever since John bought his CJ-2A, it was in the back of my mind: "How could
I do this?". Watching the whole experience here with John, I want to sell, I
don't want to sell, I never got around to formally offering him anything for
his CJ. Of course, I would have to get it here somehow, here being the
suburbs of Montreal.
 
So after Father's Day, I got into some serious discussion threads with John,
only to figure out that his Willys is worth a little more than I want to
pay, and he has decided to keep it (again ;). Not that I do not fully
understand or not back his decision. He had a Willys, and wanted to keep it,
and I still wanted one...
 
So I started a hunt. I was trying to find something local to avoid transport
costs and title issues. In the end, it came down to two. No really, there
were only two. A 1951 MB that was in pieces, but had a new gas tank and
radiator, but no way to see it run. Asking price, $1000 CDN negotiable. The
second was a 1957 CJ-3B. Asking price: $1200. The '57 had run as late as two
years ago. The PO put in a new fuel pump, and it stopped working. It looked
promising as a runner, so I started to ponder. I called one of my buddies
who is restoring some MB's, and in the end it boiled down to him suggesting
that I buy a runner, and restore that instead of looking for trouble with a
bad engine, tranny, t'case, or diffs. That ruled out the '51 MB, so I went
to have a look at the '57 CJ-3B. I also knew that my other buddy had paid
$2500 for a running MB...
 
I brought a mechanic buddy of mine with me to see it. We knew that the fuel
pump was suspicious, so we put gas straight into the line to the carburator
while we were charging the battery. It was fairly recent, and still had
enough water to cover the plates. We let the gas settle into the float bowl,
and put some more while the battery charged and we pondered how to boost a
6v system. In the end, we decided to take a chance, because the system is
externally regulated. We put the booster pack (12v) on the battery and gave
it a kick with the starter. Holy Cow! It turned over! It was starting to
look good now... Except that the battery was not getting enough charge. My
buddy found that the positive connector to the battery was falling apart. So
we sent the PO off to his garage because he thought that he had one...
 
My buddy looked at me and asked: "Do we just bypass the battery?" and I said
sure why not? It wasn't my Willys yet... So we connected the 12v booster
pack to the battery cables without the battery, and my buddy gave me the
signal. Go! turn, turn, turn, fart, fart, fart, putt, putt, prrrr it was
running! During the whole commotion my buddy removed the booster, the PO
came flying out of the garage wondering what had happened, but more
importantly, I had a runner!
 
For me, that was the deciding factor. I had proven what the PO had said
about it being a runner and that it ran 2 years ago. Now I knew that I had a
decent donor.
 
The PO decided to tell me that he still had the original fuel pump and some
other misc. parts that he would throw in. It also had an extra set of tires
with snow chains, and a snow plow. Once the PO knew that I was interested,
he gave me his final price of $850. $850 intead of $1200? OK, we had a deal.
And if I can sell the plow, then I can make some money back. I made
arrangementas with him to return that night with my payment, and I got the
paperwork and parts for it. I returned the next day with CAA, and had them
bring it home.
 
Since then, I have found out that not only do I need to fix the fuel pump,
but it looks like the PO deleted the oil filter to make room for a second
alternator. He put in the second alternator to wire in his own 12v system
for the winch to lift the plow. He even wired in seperate flashers on the
12v system with its own regulator. So it is a little rougher than I thought,
but not severe. 
 
Today, I received an email from a co-worker of another one of my buddies who
manages the new National 4wd store here. The co-worker has a CJ-3B for
parts, and wants to know what I need. It is a small world, and I am glad
that I asked for some quotes on Omix-Ada stuff from my buddy!
 
Let the fun begin... frame-up restoration, new body, 1957 CJ-3B!
 
I have sent a whole bunch of photos to John, hopefully he can post them for
you all to see.
 
----------------------------------------------------------------------
Darren K. Page
Montreal, Qc
dkpage at videotron.ca
----------------------------------------------------------------------

Here are the photos of my Willys.
 
It is a 1957 CJ-3B with 41000 miles. At least the title says 1957. The VIN
plate is worn so the first set of numbers is obscured. Based on the gauge
style (it has the earlier cluster of gauges, as opposed to the one big one
like with CJ-5's), it may be older. Based on what is visible of the VIN, it
may be older. During the rebuild, I want to try and determine the year more
accurately.
 
I bought it as a donor for a frame up restoration.
 
The body is shot, but the engine, transmission, transfer case and suspension
are all good.
 
I intend to get a new tub for it.
 
The PO put in a completely separate 12v system for a winch to lift a snow
plow. He also wired in secondary flashers on the same system. It had two
batteries, two voltage regulators, and two alternators.
 
It is missing its gas tank, and instead has one from a snowmobile or boat,
with a botched gas line run.
 
It has both seat frames, but no rear seat, but I plan on adding one. It has
no horn button, and a steering wheel from a Massey-Ferguson. It has no data
plate, but I will rectify the anomalies during the build up.
 
It cost me $850 CDN.
 
Thanks,
Darren
----------------------------------------------------------------------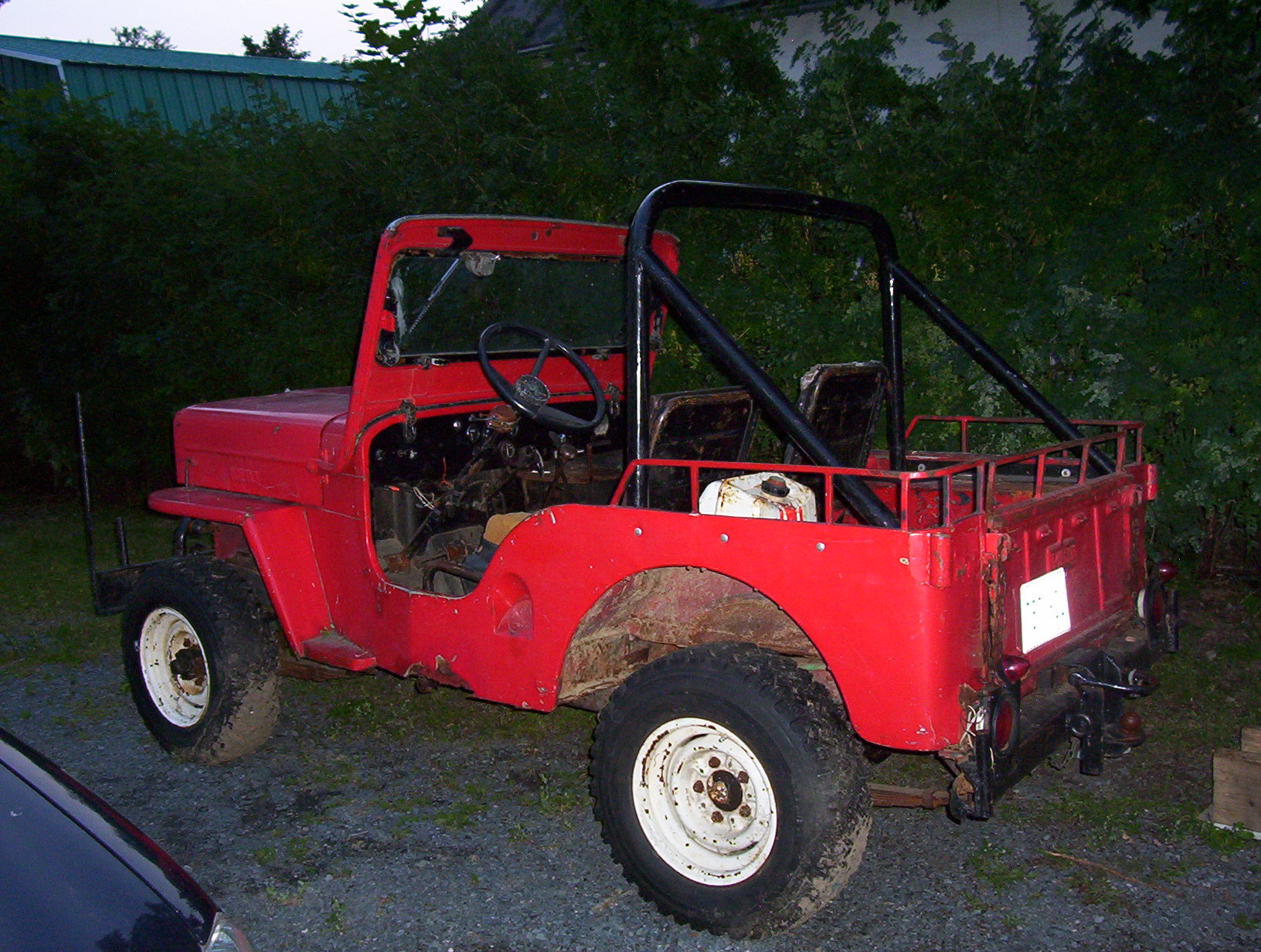 ---
---
---
---
---
---
---
---
---
other classics in Darren's life...

This Willys is a 1948 CJ-2A. It belongs to a sponsor to our 
off-road club who lets us use his land (over 200 acres worth). 
In return, we help him out every year on
Father's Day at the Veterans Hospital moving his vehicles to the site (read
cleaning, boosting, charging). We also help with the setup of the event,
supply a DJ, and do the crowd control. I got to give rides for two years in
a row now with the CJ. I also got to drive a Dodge 6 wheeler. Afterwards, we
load them all up and take them all back to his house. He also has a Model A
and a Model T, but I did not get photos of them. 

---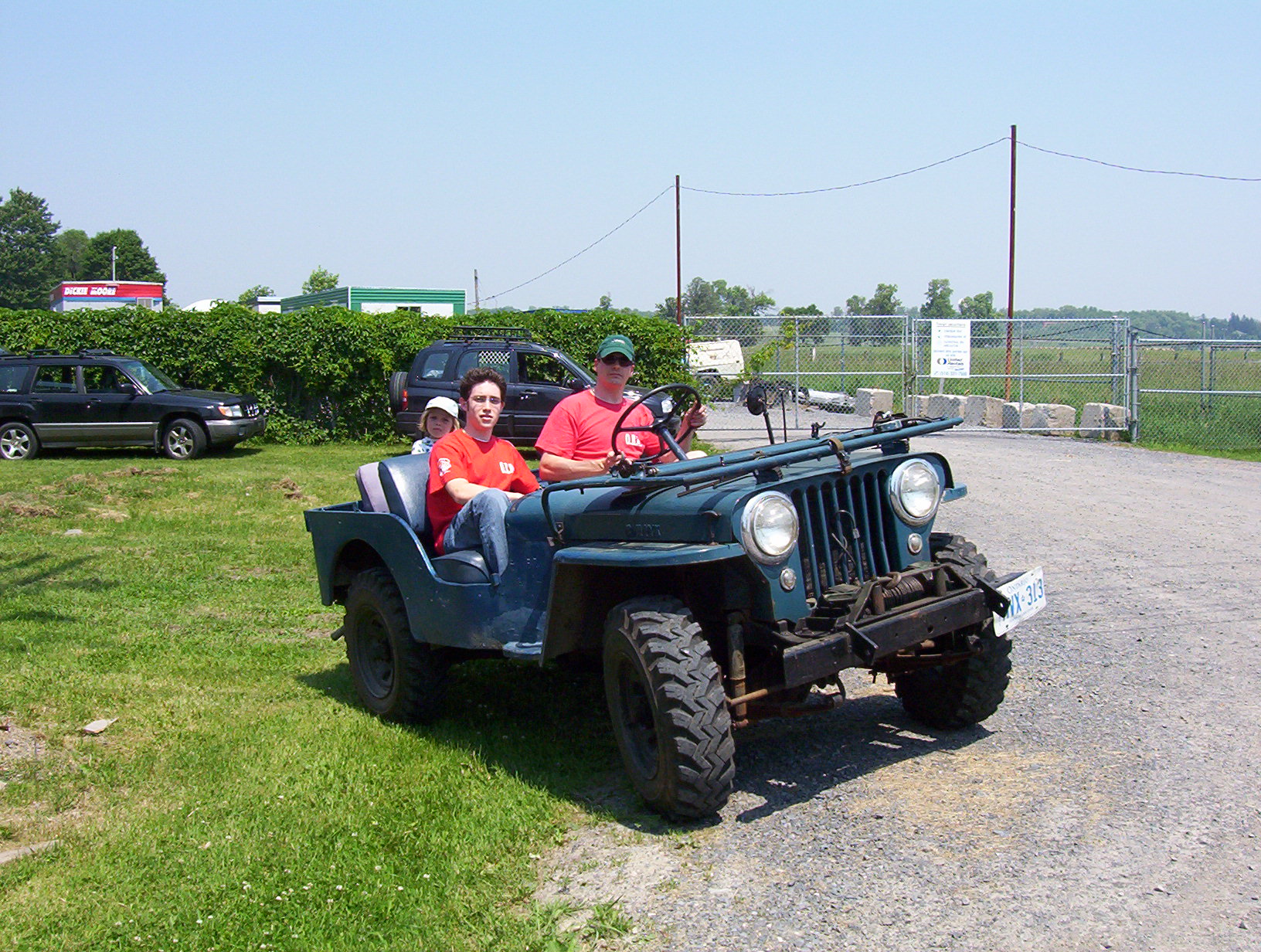 ---
---
---
---
---
---
---
---
---